eSLOWprint 130 - July 2000
---
Back
---
Tom Fry flies the flag for SLOW at the Compass Sport Cup final, Ilkley
---
---
Club Officers 1999–2000
Chair:
Chris Robinson

Secretary:
Di Leakey

Men's Captain:
Peter Huzan

Ladies' Captain:
Elisabeth Finch

Treasurer:
Liz Armitage

Fixtures Secretary:
Chris Owen

Equipment Officer:
Chris Fry

Mapping Officer and SEOA Rep.:
Andy Robinson

Beginners' Rep. and Training Officer:
Heather Walton

Publicity:
Anne Leaney

Club Kit:
Teresa Turner

SLOWprint Editor:
Ginny Catmur

Archivist:
Sue Lumas

Social Secretary:
Vicky Robb

Membership Secretary:
Gail Hiddleston
Back to top
---
Ginny's Jottings
Most of us are probably on e-mail now: did you know that there is a SLOW e-mail directory? You can add your details to the directory and receive a copy by filling in the form at
http://southlondon.orienteers.co.uk/emaildir.htm
E-mail is great for getting information to everyone quickly, as when Pete (club captain) was organising transport to the CompassSport Cup Final and teams to the Harvester – so please make sure your name and address are in the directory.
Ginny Catmur – Editor
Back to top
---
Midge's Mutterings
BAHT 'AT
Well done to Peter for galvanising such a strong team to Ilkley in sweltering heat for the CompassSport Cup Final. A hat would definitely have been useful on what was probably the hottest day of the year so far. 3rd place was a very good performance behind the 'locals' from Sheffield and Manchester. Thanks to Mad, Jerry and the gang for having so many of us (I lost count) to stay for the CSC. I hope they've dried out by now; the Watson garden became one big water feature as SLOW's Junior Squad demonstrated their finely honed water pistol skills. And three 2nd places at the Harvester near Burnley: a significant achievement, in most people's books. I did enjoy travelling to the Harvester by coach – very relaxing and chance to catch up on some reading. Quite a contrast to the orienteering! Thanks to Andy for organising the coach and getting the Moles and CROC on board to share the cost. The club subsidised the coach and was prepared to support one for the CompassSport Cup as well, but most people wanted to travel independently to Ilkley.
After the successful and enjoyable series of junior coaching days we ran earlier this year, some further training for the SLOW Junior Squad is being planned for late August, early September. This will provide opportunities for further honing of skills – of the navigational kind. One of these days will tie in with the club picnic and a fun event to be held in conjunction with Wimbledon Windmilers. See Training Diary for details.
FOUR GO 'O' IN EUROPE
Congratulations to Tom and Ed who have both been selected for this summer's top GB Junior Tour to Hungary aimed at those eligible for next year's Junior World Championships. Also to Simon who has been picked for the Under-20 B tour to Scotland; SLOW is pleased to be supporting Simon's expenses for this trip. All three plus Caroline are heading off to the O Ringen in Sweden – that should SLOW them down a bit!
COACHING FOR COACHES
I commented on our lack of coaches (people not vehicles) in a previous issue of SLOWprint. I notice that there is a BOF Club Coach training course in the Lake District on 2–3 September – see page 11 for details. If any club member is interested in attending this, please contact me as I am thinking of going myself. The club normally pays expenses for attending such courses.
BEGINNERS IN BATTERSEA
The re-mapping of Battersea Park is being carried out by Vyacheslav Smirnov, former President of the Ukrainian O Federation and currently a SLOW member, in preparation for some beginners' events in September, being promoted by Wandsworth Borough Council as part of the Millennium 'String of Pearls' Festival. Di Leakey is planning the courses and is on the look-out for volunteers to be there to talk to beginners and hand out SLOW club details. This will be a great promotional opportunity for the club so please do offer to help if you can.
FUTURE, FELL AND FROLIC
I forgot to say in the last issue 'well done' to Andrew and Anne Leaney for planning and organising the Future Champions Cup on Winterfold in May. It was a great event – and one of the few sunny days there have been this year so far. As at the World Champs last year, running the start was an entertaining opportunity to observe pre-race nerves – this time of our country's top juniors. Thanks to Jeremy Denny for taking on the organisation of the Hill Races formerly known as Silva, including the commissioning of a new trophy presented to the first woman on the 10-mile course. SLOW also put on a FROLIC event on Wimbledon Common in early July, ably organised by Michael Walter. This was planned very hurriedly and though the day itself appears to have passed by relatively smoothly from the competitors' point of view, I understand there were several behind-the-scenes hitches which we must not allow to happen again.
Chris Robinson – Chair
Back to top
---
SLOW Dates
Sun. 20 Aug.: Club training + picnic, Thames Hare + Hounds Clubhouse, Richard Evans Memorial Playing Fields, Kingston Vale; see SLOW Junior Squad, Training Diary, Social Matters
Sun. 10 Sept.: Park-O, Battersea; Junior Squad training; see SLOW Junior Squad
Sat./Sun. 23/24 Sept.: Peter Palmer Junior Team Relays: see Juniors Wanted for the Peter Palmer!
Sun. 1 Oct. Shadowing/help for beginners at Long Valley: see SLOW Junior Squad
Sat./Sun. 21/22 Oct. BOF Club training weekend; see Training Diary
Sun.10 Dec.: 'OK Nuts' Badge event, Winterfold + Pitch Hill
?Sun. 11 March 2001 Colour-coded, Devil's Punchbowl or Wimbledon
Back to top
---
Junior Squad
A good time seemed to be had by all at the SLOW Junior Squad training series earlier this year so we thought we would do it all again. The next session will be on 20th August on Wimbledon Common, the day of the club picnic. Junior training will be first, followed by an opportunity for the adults to get lost followed, by the picnic.
10th September (venue to be confirmed) will be an opportunity for those taking part in the Peter Palmer Relays to polish their technique. All others welcome too – polishing never goes amiss.
It is a big step going to your first badge event or moving up a badge course so we thought we would nominate a badge event (Long Valley on 1st October) where you could be shadowed. This may mean you running later rather than earlier so the adults have a chance to run their own courses first.
If you are interested in any or all of these please let me (or Ginny Catmur) know.
That's it for now.
Heather Walton
Back to top
---
Training Diary
Thank you to CROC for inviting us to a couple of their training events and thank you to Andrew and Anne Leaney, Peter Huzan and Vicky Robb and Ginny Catmur for putting on summer evening events.
We should be able to stay on terrain for a little longer before the nights really start drawing in.
I have been in contact with the Wimbledon Windmilers who have expressed an interest in including some orienteering in their programme. We have therefore arranged to have a SLOW vs WW run/orienteering exercise on Sunday 20th August from 1 till 2 pm. (This is after the junior training and before the club picnic.) Claire and David Evans are members of WW as well as SLOW and Claire thinks that we would enjoy the MABAC races (about 5 miles, I think, on familiar areas like Winterfold and Puttenham). See their website http://www.windmilers.org.uk (complete with picture of David Evans) if you are interested.
See the Training Diary for details of Tuesday night training.
BOF are putting on another club training weekend on the 21st and 22nd of October on High Dam in the Lake District. For anyone out there who has not experienced the wonder of orienteering in the Lake District, or who has spent rather too long a time enjoying it, or just wants to experience it again - this is for you. Please fill in the attached form by 20th September if you are interested and I will organise a SLOW trip. Cost is £5 plus travel and accommodation (Youth Hostel or B&B). (BOF would like us to be accompanied by a qualified coach; if this rare species in SLOW can't come, we may join up with another club.)
We have decided to concentrate on training for juniors rather than doing another beginners' course but if any adult beginners want some help please get in touch and I will arrange something (e.g. meeting up at an ordinary event, explaining techniques and practising them on the courses already available).
May you all run in sunlit forests (probably abroad!)
Heather Walton
Back to top
---
Membership Matters
New Members
New Members
Per Sundbye - Battersea, LONDON
Charles Bromley-Gardner - LONDON SE16
Paul, Kanchan, Michael Gatward - Hanworth, MIDDX
Iryna, Alina, Vyacheslav Smirnov - Hounslow, MIDDX
Geoff Hodgson & Christine Vonbun - LONDON W5
Nicola King - Shepherds Bush, LONDON
Change of Address
Steinar Laag - LONDON SE16
David Jaffe - Melbourne 3079, Australia
Mark & Bambi Walmsley - New Jersey 07446, USA
The Roach Family left Japan on June 17 and will be on holiday until the White Rose so no e-mail messages will be read until then! They are then returning to Skipton, North Yorkshire.
Gail Hiddleston – Membership Secretary
Back to top
---
Cap'n Karen
Report on the Ladies' Performance by Karen Jones, Ladies' Captain (Pro Tem. – Maternity Cover for Liz Finch)
Dear SLOWies
Unaccustomed as I am to report writing, I have delegated the task to my darling, my one true love. He said he couldn't help so husband Andy is writing it, with a bit of help from some members of GO.
I don't know about you, but I just love the relay season. All those long car journeys listening to Andy banging on about the key to a podium-topping performance (running very fast without making any errors), when I know that, in actual fact, Major Mistake will be lurking at every control to catch me out. Andy then starts droning on about PMT – err, I meant PMA (Positive Mental Attitude) and then (someone stop him, please!) a captain's duty to lead from the front, motivate, etc. You'd think we were members of the British Olympic Team! Just calm down and let me panic in peace.
Oh, now the kids want to play football and have a 'Happy Meal'. Sometimes I wonder why I bother to make sandwiches, for all the thanks I get. Sarah Brown packs nothing but nuts and berries for hers, and they wolf them down, for heaven's sake.
JK: Great caravan, great amusement park and wobbly suspension bridge in Pitlochry, scary zip wire at Kinloch Rannock which I was too wussy to go on (unlike Andy and even my ten-year-old daughter Emma, fork and spoon [Jones-speak for 'good heavens]), great areas, lots of great runs by SLOW ladies and girls. (Ginny – do you know the results? Andy – are they on the Internet? Calls himself an engineer. To think I could have married a farmer. Or a decent orienteer with big pecs and some hair who knows the results. Huh.)
British: Great campsite in Ross-on-Wye, Sarah (especially the adjacent scrap heap, dog kennels and A-road) … well, I didn't book it, Andy; great weather, fierce areas, lots more great runs by SLOW ladies and girls. (Ginny – do you – err, OK.)
CompassSport Cup: I sent Andy – I was sunbathing at Frensham Pond with the kids – even more great runs by SLOW ladies and girls.
Harvester: Andy, just where is Rochdale exactly? Lots of great runs by SLOW ladies and girls, some of them in the dark. (That's the whole point, apparently.)
In conclusion, a large number of great runs by SLOW ladies and girls! Being ladies' captain is easier than the Corrs going to no. 1 when you've got PETER HUZAN as chief adviser and administrator. I can't recall actually having to do anything, to tell you the truth.
[This should make sure I don't get asked to write any more reports!]
Fellow SLOW girls, go for it!! See you on the dance floor with your handbags!!
Karen xxx
GO Postcript no. 1
It's time to think of KIMM training now as October approaches. Get the latest Harry Potter and stick it in your bag – great for training with.
GO Postscript no. 2
This year has been really wonderful. Lots of Harry! Lots of Potter! Lots of hunky men on Thursday night GO runs! All SLOW ladies recommended to join TNBGs (Thursday Night Boys and Girls).
GO Postscript no. 3
"I found the first three controls very tough, but after I realised I had tied my shoelaces together, and re-tied them, I managed to get going. I made up three places by persuading the local farmer to lend me his horse."
Karen Jones
Back to top
---
Pete's (P)review
Future Events
We're coming to the end of the big team competitions. There are just two events left till next year (unless you know different).
Test Way Relay (Saturday 2nd September, near Southampton) – 50km with 8 stages. Currently, we can put in up to one men's team and one ladies'/mixed team (min. 4 ladies), out of a total of 25 teams. There is a BBQ/social at the end as well. Please contact Dick Clark ASAP if you would like to do this. The local club also arranges an optional recce run in August.
Peter Palmer Junior Team Relays (23-24 September, Frith Hill, Surrey) – the junior equivalent of the Harvester for a wide age range. If you are a junior, from M/W12 up to M/W18 and would like to run (and party!), then please contact me (or Caroline Catmur). SLOW are putting on the event so adults are welcome to help!
Now, some events from the past …
Harvester Night & Day Relays (8 July, Watergrove, near Rochdale, Lancashire)
After some last-minute agonising over availability, we managed to get 4 teams to this event. Thanks very much to Andy Robinson for organising the coach and helping with the teams. Maybe we should consider coaches for one-off events like this more often.
The night part of the event was very challenging with extremely low visibility – I was glad to stay in visual contact with my glasses! My very initial reaction was that I was a little disappointed for our teams. However, almost immediately I changed my mind (mostly!), and I think we should be very pleased with what we achieved. Firstly, we had four teams there, which is more than the rest of the South-East region put together – we must be keen! Secondly, three teams got 2nd places – that's a lot of mementoes to bring back on the coach.
Nightcap – A Handicap (11th/23, 2nd handicap team – 14 minutes down). Some good and not-so-good performances. Again, the team will be disappointed with not winning. Deeside got the better of us early on in the race.
Nightlife – B Junior (5th/55, 2nd junior team – 44 minutes down). An excellent run by Ed Catmur on first leg. Unfortunately Nottingham were overall too strong this year. We finished 75 minutes up on 3rd place. The prizes will act as useful paperweights for these (current and soon-to-be) students.
Nightwatch – B Handicap (14th/55, 2nd handicap team – 24 minutes down). It was nice to see Trevor Jones back running again. They finished 11 seconds up on 3rd place – from my calculations that makes Mike Murray overtaking the opposition at the last control! Well done to Robin Thomas (BL, ex-SLOW) for having a good run in the winning team.
Nightmare – B Open (35th/55). We finished, and we beat quite a few teams! Thank you team, and especially to Heather Walton for "volunteering" to do a night leg, and showing the determination to finish it.
Next year the event is in sunny Dipton (Northumberland) in May. Go along to a couple of South-East night events this winter and see if you enjoy the challenge. I almost forgot – we didn't mispunch at all this time! In case Wilf's café get to see this – thanks for staying up all night.
Compass Sport Cup National Final (18 June, Ilkley Moor, Yorkshire)
Let me congratulate you all on a very good team performance at Ilkley Moor. It was a really good achievement to come 3rd in a very high-class final, especially given how far we had to travel. It is comparable to our second place last year. The results are: SYO (180), MDOC (162), SLOW (131), NOC (124), BOK (112). There were 36 members running, of whom 26 either scored or were one person away from scoring. I would like to thank you all for coming along and being part of the team. Thanks very much to Madeleine & Jerry Watson for looking after us on the Saturday evening.
There were several significant performances, including
(a) solid packing by Andy Jones, Peter Haynes and Mal Lyon running up on A;
(b) an amazing run by John Dowty on B (3rd place, and only 6 seconds down on Charlie Adams) – please tell us how you did it, John!
(c) good performances by Charles Bromley-Gardner (B), and Claire Evans (D);
(d) more amazing runs by Alan Leakey (2nd), Andy Robinson (4th), and David May (6th) on C;
(e) Sarah Brown coming 2nd on E, despite (or because of) a celebration event the previous night;
(f) the Walter juniors, Helen (F) and Matthew (G), gaining valuable points.
In fact, looking at the split times for our junior members, almost any of you could have been the leading SLOW person on your course. When I did a check on who had the best SLOW splits for each leg, you all were at or near the top at some stage. Let's hope you can build on your experiences this year and can come along to future junior training sessions to improve your skills and reduce time lost due to mistakes.
As usual, some of the individual positions were separated by mere seconds.
Next year, IF we get to the final, we shall be travelling to the Potteries, which is an easier journey.
Two areas to concentrate on for future years should tie in with our overall aims for the club. Firstly, juniors – the training we have started this year has been very successful and enjoyable; we should continue this. Often our juniors are competing against older children – this should get easier as our kids get older. Secondly, the open classes (M/W21) – we should try to strengthen this area if we want the club to thrive. New members are so important for the future of the club; please wholeheartedly support any club initiatives in this area.
British Champs (13-14 May, Hereford)
Congratulations to the following in the individual event:
Ralph Street (M10A 3rd), Michael May (M12B 2nd), Matthew Walter (M14B 4th), Edward Catmur (M18A 5th), Tim Rogers (M21L 9th), Paul Street (M45S 2nd), Alan Leakey (M45L 6th), David May (M50L 6th), Mike Murray (M55L 1st)
Charlotte Perry (W20S 2nd), Diane Leakey (W40L 5th), Chris Robinson (W40L 8th), Sarah Brown (W45L 6th), Claire Evans (UK Cup, 9th)
In the relays …
Men's Premier (Mango, 25th) – Ed Catmur, Alex Rothman, and Andrew Leaney performing creditably. Thanks for stepping in, Andrew! [2nd South-East team]
Women's premier (Orange, 6th) – What a fantastic result by Caroline Catmur, Karen Jones, and especially Claire Evans on last leg.
Junior Ad Hoc (Lime 2nd, and Lemon 3rd). Well done to our stars (on the cover of SLOWprint 129) – Tom McDonald, Michael May, Chris Howard, David Catmur, Ralph Street, and Matthew Walter.
M40 (Apple, 1st) – Well done to Peter Haynes, John Dowty, and an ecstatic Andy Jones.
M45 (Peach, 3rd) – Paul Street, Andy Robinson, and Alan Leakey on the podium, but losing out to GO and TVOC this time.
M50 (Rhubarb, 2nd) – Jim Mallinson, David May, and Mike Murray. Great performances by David and Mike.
W40 (Grape, 1st) – Chris Robinson, Diane Leakey, and Sarah Brown. Oops, they did it again (for the umpteenth time). Potentially more boring than when SYO and INT dominate the open classes – but I'm not bored yet! Best wishes for W45.
And the rest – M35 (Guava, 8th), M40 (Pear, 9th), W35 (Banana, 6th), Short (Melon, 55th), Women's Short (Kiwi, almost 11th) – good run from Liz Armitage.
Other Team Events
Bob Graham Round Relay (15 July, Lake District, 72 miles, 27,000 feet climb) – We did it! Well done to everyone who took part – it was a real team effort. I thoroughly enjoyed the weekend despite (or because of?) having to get up at 2 a.m. to run in the dark and mist. It was worth it to see the sun rise over the mountains. Thanks ever so much to Ali Turnbull and Robin Thomas for their hospitality, and to Andy Robinson for helping with the logistics.
North Downs Way Relay (24 June) – well done for winning this. It was a nice way to make my comeback into this event. I am looking forward to putting the shield on my mantelpiece to replace the Harvester trophy from last year.
Peter Huzan – Captain
Back to top
---
Juniors Wanted for the Peter Palmer!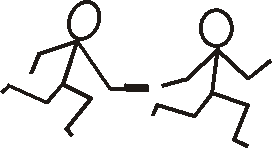 The Peter Palmer Junior Relays are being held locally this year, near Camberley, hosted by SLOW. For those who haven't been involved before, this is an overnight, inter-club relay which is always a great social event!
Teams of eight M/W12–18s (including at least two girls and two boys) run the following standard of legs:
1 Red - night
2 Red - night
3 Light Green - night
4 Orange - dawn
5 Orange - day
6 Light Green - day
7 Yellow - day
8 Green - day
The date is over the night of Sat. / Sun. the 23rd / 24th September. As it's so close to home, we hope to be able to field two teams, so could everyone interested contact me with name, age class, and preferred leg to run.
Also, if you'd be interested in a night leg but don't feel you have enough experience, let me know – I can organise some night-O training.
Caroline Catmur
Back to top
---
New baby!
Andrew Geoffrey Finch was born at 8.26 pm on Thursday 27th April, weighing in at 8lb 2oz (as 3.7 kilos means nothing to us) and 'lengthing in' at 55cm. Some early photos of Andrew can be seen at:
http://www.liathach.demon.co.uk/andrew/index.htm
David Finch
Back to top
---
North Downs Way, 24th June
This was definitely the best day under the new (from 1994) format of mass starts for each leg. Most of the legs produced a good close race, and this is shown by the fact that although no leg records were broken (indeed from all the teams Malcolm was the only person to get anywhere near a record), nearly all teams produced faster times than previous years. Strength in depth and excitement are on the up.
The day soon settled into a duel between us and LOK, who had beaten us last year. However none of the next four teams were very far behind all through the day, and of the seven starters only Channel Tunnel Rail Link looked out of their depth (there must be a good pun there somewhere – any suggestions?). By the later stages, we managed to draw ahead and ensure that the shield once more came back to its usual home in Southwest London.
Actually, it was a bit of a last-minute scratch round to get a team. Notices in the last two mags fell on deaf ears and 3 weeks before the day I thought I only had four runners. However SLOW membership proved that human nature will ignore general appeals but respond positively to specific requests, as a few days of direct phone calls later we not only had a full team but a willing reserve.
The age range was impressive from Ed Catmur at 17 on first leg to Jeremy Denny at 60 at the end. Ed's appearance on first leg was a bit fortuitous. Thinking of the South Downs, he said he liked the idea of a run by the sea. But the North Downs has only one seaside leg and I was stuck for a first leg runner at the time. Impressing a teenager used to Saturday morning lie-ins that a 5 a.m. run 90 miles from your bed is not unreasonable took a little more effort. But Ed saw the fun in it and put in a strong steady effort to score one of those close second places that was to be a feature of the team's performance.
Although we only won two legs all day we had eight second places and nobody lost significant time and it was that that won us back the trophy. So I would like to take this opportunity to say that my sixth place on second leg was a good close sixth – honest, guv.
Most of the early legs were run by the same people as last year, each motivated by the idea of beating last year's time. Some did, some missed but that motivation kept us in close contention. The first potential problem came on leg 6 where Mike Farmery, a late recruit, was tackling the biggest leg – unrecce'd and with tricky navigation. But Mike put in the performance of the day, being totally cool and professional, turning up with transpasealed map, talking the route through and pacing his run superbly for another close second.
That set Vicky up to put us in the lead for the first time taking advantage of one of LOK's weaker runners. One of their stronger ones immediately took it back again, but on leg 9 Malcolm put in the fastest run of the day to give us the lead we wouldn't lose. Peter and Tom extended that lead as Tom managed our second winning leg, despite only managing half a recce.
Leg 12 was the highspot of the day as a tightly packed group of four stormed over the course. Karen was shoulder to shoulder with a lass from HAVOC and two men were tucked in behind. It was bound to break up on the long drag at the end and so it proved. Karen just failed to stay with the other girl as the two men were burnt off.
A family selection race earlier in the week resulted in a surprise substitution at Reigate – well, it surprised me anyway, and Simon did not seem put out by the arrangement. It seemed to work though as Charlie put in another run in close contention with the leaders.
By now, we were clear and assured of winning. The remaining three runners were steady and kept it that way. John had been first reserve and was called on when AJ's rock-jumping the week before went awry. Jeremy was the third team member to record SLOW's fastest leg time since 1994. Malcolm and Karen were the others.
On a note of caution: LOK were missing three star runners from their 1999 team and we were a few minutes slower than they did last year. Add that to the closer racing this year giving motivation to all the teams to try harder next time, and things look well set for an even better day in 2001. Dick Clark will be back from his sabbatical to take over as team captain once more. Please let him know if you want to run and don't leave him to do all the chasing.
Details: SLOW's Team Result
Leg

Runner

Time

Pos

Team pos

Fastest 2000

Record 1994-2000

SLOW/LOK

gap

1

Ed Catmur

56.57

2

2

56.42

49.23

2.03

2

Andy Robinson

68.25

6

3

62.58

53.49

(3.03)

3

Peter Carlill

51.46

2

3

50.44

46.51

(2.36)

4

Chris Owen

52.50

2

2

46.49

40.49

(8.37)

5

Paul Canham

59.46

3

2

53.49

50.56

(10.43)

6

Mike Farmery

89.48

2

2

88.56

76.30

(3.28)

7

Vicky Robb

37.46

2

1

33.19

28.26

1.46

8

Gordon Parker

73.16

4

2

63.12

57.55

(8.18)

9

Malcolm Fisher

64.46

1

1

64.46

64.35

0.09

10

Peter Huzan

51.32

3

1

47.22

44.14

2.20

11

Tom Fry

55.18

1

1

55.18

49.47

3.44

12

Karen Jones

53.16

2

1

52.53

46.33

16.52

13

Charlie Turner

54.29

4

1

53.16

46.41

16.18

14

John Dowty

74.28

2

1

68.49

61.22

17.39

15

Andrew Leaney

63.40

4

1

50.53

47.54

8.21

16

Jeremy Denny

47.31

2

1

47.15

44.25

11.38
Overall results
| | | | |
| --- | --- | --- | --- |
| Place | Team | Time | Penalties and Allowances |
| 1 | South London OW | 15:55:35 | None |
| 2 | London OK | 16:07:13 | One allowance of 0.36 being slower than cut-off |
| 3 | Guildford | 16:44:43 | One cut-off time for being well over time and one allowance of 0.36 being slower than cut-off |
| 4 | Canterbury H | 16:46:34 | Two cut-off times for being well over time or retiring injured |
| 5 | HAVOC/Saxons | 17:00:07 | One allowance of 3.31 being slower than cut-off |
| 6 | Loose V/Tadworth/CROC | 17:20:31 | Two allowances totalling 18.24 being slower than cut-off |
| 7 | Channel Tunnel RL | 19:42:52 | Five cut-off times for being well over time or retiring injured and one DNS awarded cut-off plus ten minutes. |
Note on cut-off times
These were new this year and experimental. They proved quite controversial in that they gave teams better results when fielding slow or weak runners. London were embarrassed to receive what they saw as an undeserved 36 second bonus. It should be noted that if the Guildford and Canterbury teams had been given their true times on leg 12 – around 105 minutes – the HAVOC/Saxons team would have been third. This requires work before next year.
Andy Robinson
Back to top
---
Social Matters
SLOW Summer Picnic: 20 August
The summer picnic is to be held at the Clubhouse and adjacent playing fields, following the successful picnic there last year, on Sunday 20 August. There will be some fun orienteering between 1 and 2pm, a picnic and softball for those who still have the energy! (We will be joined by the Wimbledon Windmilers for some or all of the afternoon.) No need to sign up beforehand but it would be handy if you could give me a call or e-mail to let me know if you intend to come. Offers of help with food most gratefully received!
See you there,
Vicky Robb – Social Secretary
Back to top
---
BOF Club Coach and Regional Coach Courses, 2-3 September 2000, YMCA Lakeside
The British Orienteering Federation is holding both a Club Coaches' Course and a Regional Coaches' Course based at the YMCA Lakeside over the weekend of 2nd - 3rd September 2000. Following the format of the previous year's courses, we have co-ordinated another two such courses to enable travel to be combined and an opportunity for coaches and aspirant coaches from different regions to train together. The limited social time will also be enhanced by this combination.
The weekend will comprise practical and theory sessions. There will be some preliminary work on Friday evening (from 18.00), although this is not compulsory. The course will run from 09.00 tiill 21.00 Saturday and 09.00 till 15.00 Sunday. There will be no assessment during the weekend although candidates will be given details of potential assessors. The course will not cover any of the First Aid requirements of the awards and a further two-day course covering those aspects will need to be attended prior to assessment.
The course is being heavily subsidised by the Federation's coaching budget. The all-inclusive fee of full board from Friday's evening meal to packed lunch on Sunday and all tutoring/materials costs etc. is £50. Travel expenses are not however available. Day visitors will be allowed subject to availability at a cost of £30. Clubs and Regional Associations usually pay the costs.
Numbers are limited and attendance will be strictly on a first come, first served basis. The closing date for applications is the 11" August 1999 and final details will be sent out on 21st August 2000. Please apply using the attached form.
Back to top
---
BG Energy Challenge 17th & 18th June 2000
This is a challenge for teams of between 5 and 9 walkers plus two drivers/support team. The main challenge is to raise at least £5,000 for Children's Aid Direct, a charity that helps needy children in countries such as Kosovo and Albania. To provide an incentive for people to help the team raise the money, they have to climb three mystery mountains within 24 hours – sounds familiar? Yes, you've got it – but the mountains are not Ben Nevis, Scafell Pikes and Snowdon. They are deliberately different to ease the burden on those three. And so it was that our team of 7 walkers and 2 drivers gathered. We were one of two teams from BG Technology, and one of 24 teams in total.
So which three mountains are they? That's the mystery – until a week before the event. About a month before the event we learn that overnight accommodation on the Friday should be booked in Scotland, and that Glasgow was a good place to be in a position to start the challenge on the Saturday. On the Monday before the event the rumours started that the first mountain was near Loch Lomond, but it was not until the Thursday that we learnt that it was to be Beinn Dorain, starting from Bridge of Orchy. We would not learn the identity of the other mountains until we had returned from the previous one.
We all watched the weather forecasts during the week, looking forward to the fact that it was going to be dry, but not looking forward to the temperatures expected. On the drive to Glasgow on the Friday, the expected hot sunny weather was with us all the way. However, we were a bit relieved when we woke up on Saturday morning to find it cloudy and cool. With our start not until 6.40 pm, we had plenty of time to drive to Bridge of Orchy, where on arrival we were met by a little rain, low cloud and the usual hordes of Scottish midges. We were all keen to start – even if it was only to get away from the midges!
At 6.40 pm, after the kit check, safety talk and instructions on how to use the walkie-talkie, we were the 8th team to set off (teams starting at 5 minute intervals). Glad to get away from the midges, we had soon walked up a sweat. With a cloud base at about 400 metres, and the summit of Beinn Dorain at 1074 m, we knew the conditions would not last. Frequent stops for drinks meant we were not going to break any records – but we were not trying to – just aiming to enjoy it and get round within 24 hours. With the warning of hot weather on the Sunday, we were not going to dehydrate ourselves on the first mountain. By the time we reached the col at the start of the ridge walk to the summit, the wind had picked up and the temperature dropped. Cagoules were needed for the rest of the walk and even though it was still warm walking, it got chilly as soon as we stopped for drinking. A brief stop at the summit and we were on our way down again. Fortunately, we just managed to get back down at about 10.45 pm in the gloom and without needing head torches. Some later teams were not so fortunate and could be seen higher up using their torches.
Back at the minibus we find our next peak is to be Great Gable (899 m) – but we have to drive to the motorway services at Carlisle and wait – to avoid first (and faster) teams arriving at Seathwaite before 5 am. That means a wait of nearly 2 hours before we are allowed to set off for Seathwaite and Great Gable (time not counted in the 24 hours). We are warned that it is going to be a hot sunny day – so drink plenty of water and isotonic drinks! For us it was a start at 6.20 am, but with a clear blue sky we knew it was going to be hot. A relatively gentle walk up to Styhead Tarn (with plenty of short stops for drinks) was followed by the scramble up to the summit, a rest to admire the view (the Langdale valley was cloudy with Harrison Stickle above the clouds) and more drinks, then back down the way we had come. Arriving back at Seathwaite at about 10.45 am, we learn the whereabouts of the final peak – a drive to Dolwyddelan in Snowdonia for a climb up Carnedd Moel Siabod (872m).
The schedule did not allow all that much time to get there, so it was a quick drink and sandwich after changing into some dry clothes (wet from the sweat, not the rain), and off to Snowdonia. With the temperature reported to be reaching 31°C, we were all snacking and drinking a lot in the minibus – no one wanted to get dehydrated on the last peak. The first half of the walk looked easy enough – through the forestry plantation on gently rising forestry roads. Perhaps the trees would offer some relief from the sun and heat? No! All the trees had been felled, and it was a hot, boring walk to the open fell where the real climb started. Again, frequent short stops for water and food to make sure no one got dehydrated. Up a steep climb to the lake, contour round the worst of the rocks and up to the summit. We had made the top! Now we just had to get down in a little over 2 ½ hours to beat the 24 hours. The walk back through the 'forest' seemed to go on forever, but we arrived back at the finish line in Dolwyddelan at 8.05 pm, recording a time of 23 hours 25 minutes (allowing for the 'enforced' 2 hour break outside Carlisle).
So we had completed the challenge – at least the walking part of it – with no incidents, unlike the team who had one person airlifted from the last peak suffering from heat exhaustion. With fine weather the whole time (unlike the heavy rain of the past three years), everyone enjoyed the walking, even though we were all a bit hot and tired. And for the record (and Chris Owen), there was no rain during the 24 hours and I got no blisters! As for raising the £5,000, we just about made that, thanks to everyone who sponsored members of the team. For all those from SLOW who sponsored me, thank you for supporting this worthwhile cause, and if I didn't see you at the Harvester Trophy, it would help if you could send me a cheque (payable to me – as I will already have sent the money to Children's Aid Direct) as soon as possible. If you didn't sponsor me, it's not too late – contributions would be more than welcome.
Jim Mallinson
Back to top
---
SLOW Breaks New Ground (but Old Legs): the Bob Graham Round, 14 July 2000
"Would you like to run in an attempt at the Bob Graham Round?"
"Who or what is a Bob Graham Round?"
"Never mind about the details; just turn up at Dacre Castle on the 14th of July. You'll enjoy it. Bring a sleeping bag and running shoes."
That's a paraphrase of a 'phone conversation between our men's captain and me last April. To me, it somehow seemed short on essential information. But it was all that Peter needed to put me down on the team sheet for the SLOW attempt to run the Bob Graham Round as a relay.
The Bob Graham Round is a route over 42 of the highest peaks in the Lake District. Bob Graham himself ran a guest house in Keswick. He founded the Round on his 42nd birthday. Wearing gym shoes, baggy shorts, and a pyjama jacket he took off in June 1932 to try and cover one peak for each year of his life, all within 24 hours.
Other madmen followed. The idea caught on (they breed them tough up north). A few statistics bear this out. There are now about 1,200 members of the Bob Graham Club, including 75 women. The record is a superhuman 13 hours 53 minutes by Billy Bland in 1982. The oldest successful finisher yet is Brian Leathley, aged 66, in 1998 (he did it in 23 hours, 39mins). Andy Robinson, the only SLOW member deranged enough to try it to date, made it in a very creditable 22½ hours. My personal estimated time? A lifetime.
So SLOW had something to prove – that southerners aren't softies. None of us felt quite up to the full monty, but we reckoned that a team relay was the next best thing. Under the able direction of Peter Huzan, the team came together at Dacre Castle. We enjoyed the limitless hospitality of Ali Turnbull and Robin Thomas, and contemplated a punishing schedule based on Andy's round minus 20%. The team sheet looked like this:
Leg 1: Skiddaw, Great Calva, Blencathra: Peter Huzan and yours truly
Leg 2: Clough Head, Great Dodd, Watson Dodd, Stybarrow Dodd, Raise, Whiteside, Lower Man, Helvellyn, Nethermost Pike, Dollywaggon Pike, Fairfield, Seat Sandal: Madeleine Watson and Paul Canham
Leg 3: Steel Fell, Calf Crag, High Raise, Sergeant Man, Thunacar Knott, Harrison Stickle, Pike of Stickle, Rossett Pike, Bow Fell, Esk Pike, Great End, Ill Crag, Broad Crag, Scafell Pike, Scafell: Andy Robinson, Jeff Armitage, and David Finch
Leg 4: Yewbarrow, Red Pike, Steeple, Pillar, Kirk Fell, Great Gable, Green Gable, Brandreth, Grey Knotts: Andrew Leaney and Gordon Parker
Leg 5: Dale Head, Hindscarth, Robinson: Vicky Robb, Heather Walton, and Dick Clark
Peter and I set off at three in the morning, with friendly encouragement from a couple of members of Eden Runners. They, together with Borderliners OC, were going to run a similar relay and give us encouragement. The last we saw of them was about 500 yards into the run, when they disappeared into the gloom.
Run turned into walk. Clouds surrounded us. The wind got up. We soldiered on. We reached the top of Skiddaw just as it started to get light, and gratefully turned downhill. By the time we reached the top of Great Calva the sun was up and the clouds quietly fading away. It promised to be a perfect day. 5 o'clock found us slogging up Blencathra, and we reached the top just after 6 o'clock. All that stood between us and breakfast was an appalling descent over Hall's Fell. By then my legs were jelly, and it was hard to feel confident on bare rock with steep drops on both sides. We finally made it to the changeover at 6.41am, and watched Paul and Madeleine set off into lovely sunshine.
I spent the rest of the day following the race. The weather stayed good, and the views were magnificent. Jollity and laughter marked each of the changeover spots as we waited for the next leg to come in. Eden Runners and Borderliners were free with their advice and hot tea, and made it a pleasure to be in the Lakes. A wonderful time was had by all, as we compared miseries and wondered how the next leg was getting on. The worst misery? Andy Robinson's shoes had fallen apart on the way down from Scafell Pike, and he completed his run held together with the waist string from David's shorts (don't ask how David finished his run!).
The final result was a (sort of) win for SLOW. Robin Thomas was attacked by terrible cramp on Great Gable, and had to abort. Otherwise the Eden Runners/Borderliners team would have beaten us thoroughly. We finished in about 19½ hours, well outside the schedule Peter had set but still impressive. I think we proved that SLOW can do it.
Heartfelt thanks go to: Ali Turnbull and Robin Thomas, for magnificent hospitality in their fairytale castle, Peter Huzan, for organising it all, and Eden Runners and Borderliners, for encouragement, advice, tea, and sociable chat.
So – who's up for another attempt next year? I certainly am! Maybe we can beat the schedule this time.
Chris Owen
Bob Graham Round: Splits

   
Leg 1 - 14 miles 5,000ft ascent
(Pete Huzan, Chris Owen)

Moot Hall, Keswick
        Skiddaw                 01:18:04        
        Great Calva             00:43:38        
        Blencathra              01:08:00        
Thelkeld                        00:31:36        03:41:18

Leg 2 - 15 miles 6,000ft ascent
(Paul Canham, Madeleine Watson)

Thelkeld
        Clough Head             00:49:00        
        Great Dodd              00:30:00        
        Watson Dodd             00:07:00        
        Stybarrow Dodd          00:09:00        
        Raise                   00:16:00        
        Whiteside               00:08:00        
        Lower Man               00:14:00        
        Helvellyn               00:06:00        
        Nethermost Pike         00:07:00        
        Dollywaggon Pike        00:12:00        
        Fairfield               00:46:00        
        Seat Sandal             00:25:00        
Dunmail Raise                   00:20:34        04:09:34

Leg 3 - 20 miles 7,000ft ascent
(Andy Robinson, Jeff Armitage, Dave Finch)

Dunmail Raise 
        Steel Fell              00:21:18        
        Calf Crag               00:19:02        
        High Raise              00:31:08        
        Sergeant Man            00:06:15        
        Thunacar Knott          00:12:11        
        Harrison Stickle        00:05:57        
        Pike of Stickle         00:12:25        
        Rossett Pike            00:36:38        
        Bow Fell                00:27:31        
        Esk Pike                00:17:13        
        Great End               00:22:00 (est.) 
        Ill Crag                00:13:50        
        Broad Crag              00:09:00 (est.) 
        Scafell Pike            00:13:27        
        Scafell                 00:29:42        
Wasdale                         00:39:17        05:16:54

Leg 4 - 12 miles 7,000ftt ascent
(Andrew Leaney, Gordon Parker)

Wasdale 
        Yewbarrow               00:37:30        
        Red Pike                00:39:00        
        Steeple                 00:16:13        
        Pillar                  00:27:17        
        Kirk Fell               00:44:44        
        Great Gable             00:37:07        
        Green Gable             00:13:54        
        Brandreth               00:13:54        
        Grey Knotts             00:07:55        
Honister                        00:13:16        04:10:50

Leg 5 - 11 miles 2,000ft ascent
(Dick Clark, Heather Walton, Vicky Robb)

Honister
        Dale Head               00:23:30        
        Hindscarth              00:12:55        
        Robinson                00:21:26        
Moot Hall, Keswick              01:10:58        02:08:49
                                        Total   19:27:25
   
  
Back to top
---
General
Copy date for Issue 131 (September 2000) will be Fri. 22th September Letters, event reports, articles, cartoons, gossip, scandal, notices, small ads, court circulars, births, deaths and marriages should be posted to Ginny Catmur; electronic copies via e-mail or on 3¼" disk are particularly welcome.
The current SLOW e-mail directory can be accessed by filling in the form at http://southlondon.orienteers.co.uk/emaildir.htm. The e-mail directory will be sent to your address and your details will be added to the directory.
New Members: If you are new to SLOW, you may not know about
... Training: Tues. eve. (7.15 pm) training open to all, of all standards: every Tuesday at the clubhouse (Thames Hare and Hounds, Richard Evans Memorial Playing Fields, Kingston Vale); 9 pm at the Robin Hood Pub, Kingston Hill; and other venues: see the Training Diary for details.
… and Transport: we can organise lifts to events: ring any of the club's officers, as listed above, and one of us will sort this out for you.
Back to top
---
Comments to the