SLOWprint 142
JANUARY 2003
<![if !vml]>

<![endif]><![if !vml]>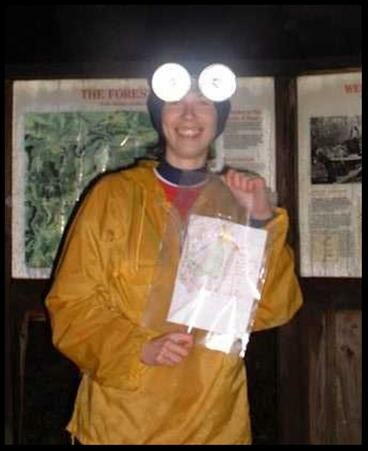 <![endif]>
MARIE THIROUARD
http://sloweb.org.uk/
Chair: Chris Robinson,

 

:

Secretary: Don McKerrow, +70  

:

Ladies' Captain: Karen Jones,

 

:

Treasurer: Liz Armitage,

 

:

Mapping Officer, SEOA Rep. and Fixtures Secretary: Andy Robinson,  

:

Club Kit: Teresa Turner,

 

:

Men's Captain: Peter Huzan,

 

:

Publicity Officer: Paul Canham,

 

:paul.canham@btinternet.com

Social Secretary: Vicky Robb,

 

:

Membership Secretary: Ginny Catmur,  

:

Beginners' Rep. and Training Officer: Heather Walton,

 

:

Equipment Officer: Chris Fry,

 

:

Archivist: Sue Lumas,

 

(020-8949-6765

SLOWprint Editor: Sarah Brown,

 

:

Webmaster: Andrew Trimble,  

:
Copy date for Issue 143 will be  early  March 2003. Letters, event reports, articles, cartoons, gossip, scandal, notices, small ads, court circulars, births, deaths and marriages should be posted to Sarah Brown (address above); electronic copies via e-mail are particularly welcome.
New Members: If you are new to SLOW, you might not know about ... Training: Tues. eve. (7.15 pm) training open to all, of all standards: every Tuesday at the clubhouse (Thames Hare and Hounds, Richard Evans Memorial Playing Fields, Kingston Vale);  After Tuesday evening training, following the closure of the Robin Hood Pub, the club has decided to try the Albert Arms until further notice. The Albert Arms is at the junction of Kingston Hill and Queens Road (the road out from Kingston Gate), up and over the hill towards Kingston from the Robin Hood.
Like the Robin Hood, it is on the 85 bus route, but it's also close to Norbiton Railway Station. Food is served until 9pm, about the time people usually arrive after training.
            … and Transport: we can organise lifts to events: ring any of the club's officers, as listed above, and one of us will sort this out for you.
MIDGE'S MUTTERINGS
The spice of life
What was special about SLOW's events in 2002?  In case you hadn't noticed, there was a very wide variety of formats: UK Cup Sprint, Southern Express, Trail Challenge, FROLIC, SE Score, fell race, age-group.  To bring a little spice into the potentially boring diet of colour-coded and b***e events, SLOW will again be putting on a diverse programme in 2003.  Our major event of the year will still be the OK Nuts Trophy in December.  The 2002 Trophy held last month was a superb event all-round; thanks and well done to all involved.
Nearly twenty club members attended the Coaching Weekend in the Forest of Dean in November, which I unfortunately had to miss as I was at the other end of the country visiting my mother.  Many thanks to Training Officer, Heather Walton, for organising this and to Chris Fry, chief coach.
The coaching we have been providing is helping the SLOW Junior Squad, culminating in winning a place at the final of the Yvette Baker Trophy, the national inter-club competition for juniors.  All our juniors performed extremely well in this high-class competition.  More importantly their enthusiasm and team spirit at the final was quite uplifting - we deserved a trophy for being the loudest club on the run-in and at the prize giving.
Our strategy of selecting 'hot pick' events and arranging transport seems to be working well; let me know if it isn't!
Can you co-ordinate?
We are in need of a new co-ordinator for Tuesday evening training.  Heather's role as training officer involves her increasingly in organising training days and weekends, so we would like someone else to take on the Tuesday evening role.  This means drawing up a programme of street events and runs in the winter, plus some orienteering training on different areas in the summer.  I stress it is a co-ordinating role - the ability to delegate is a key requirement!  Please have a chat with me if you think you would like to do this.
And finally… several of us are involved in preliminary discussions concerning the possible hosting of a week of World Cup races in 2005 in the south-east.  Watch this space!
Wishing you all well for 2003.
Chris Robinson
Chair
JUNIOR TRAINING DAY: 25TH JANUARY
 EVERYONE INVITED PLUS BEGINNERS
CALL CHRIS FRY IMMEDIATELY
see page 7
COACHING CORNER                                             from Heather Walton
We've had some close packed coaching activity recently starting with a beginner/juniors coaching day at Wisley on 17th November joint with Guildford Orienteers.  Many thanks to Angela Darley from Guildford for planning and to all the shadowers from the club who braved the challenge of trying to keep up with the juniors.  This was followed up with a coaching weekend at the end of November in the Forest of Dean.  There is an article elsewhere with a view from the recipients but I would like to list some thanks to all those who helped to make it happen.  First and foremost was Chris Fry who didn't let recovery from a knee operation or planning at Hankley put him off burning the midnight oil to plan some excellent training exercises for the weekend.  Others were Erica (food including pineapple for breakfast!); Ginny (meeting the fiendish challenge of transport co-ordination); Mark V-R (pub food arrangements and much collecting of controls); Charlie (SLOWPRINT reporter)and much collecting of controls); Marie (club photographer, see website in due course); Ran (SLOWPRINT reporter); Chris Wroe (table-tennis champion); Pete H (why should we stop training just because its dark?) (night courses and much putting out and collecting of controls); Richard C (provider of bright headlights and much putting out and collecting of controls); Dave F (much putting out and collecting of controls) and to everyone for making the weekend so enjoyable.  One striking learning point from the weekend – don't forget to hold the compass straight ahead of you when running on a bearing, the most perfectly set bearing won't work if you hold the compass at an angle!
I am hatching plans for another beginner/juniors coaching day, probably on Hankley,  probably on Sun 26th Jan (I will not be able to organise (work crisis looming); anyone willing to volunteer please let me The juniors had a chance to put their skills into action at the Yvette Baker Trophy final on 8th December.  Details elsewhere but it was great to see you all enjoying yourselves.
Other highlights (rather randomly chosen, tell me if I've missed anything) include Greg Street making his mark 1st on M10B at both Hankley and Frith Hill – well done Greg!  James Haynes was 2nd on the same course at Hankley.  Robert Jones was 2nd on M10A at the November Classic and Charles McMillan 3rd on M12A at Hankley.  Good packing on M14 A, James McMillan 1st with Ralph Street and Michael May 4th and 8th on Frith Hill and Ralph 2nd (by 35 seconds) with Michael 3rd and James 5th at the November Classic.  Charlotte Turner was 2nd on W16A at the November Classic and Ali McKerrow was 2nd on W16A at Frith Hill.  Well done all of you and to anyone else whose performances I have missed.
Heather
And now for some sunny memories…
It was good to see so many SLOW juniors competing at various events over the summer, often competing against other juniors from across the country.  Alex Roach has really got going orienteering this year and was 6th on Day 4 at the Lakes 5 days.  Ali McKerrow has emerged from exams and was 20th on W16A.  Ralph Street was second overall at the Lakes 5 days and Anna, Christina and Rosa Bonafini were all 1st on W14B, W16B and W20S – pity they don't visit more often!  Michael May was 4th on the short course at the SE score beating a number of adult competitors and it was good to see Anna Steinitz in 12th competing on the short course too.  Emily and Sophie Morrison were 2nd and 3rd on yellow and Greg Street and Jenny Steinitz were 2nd and 3rd on white.  We even had a rare appearance from William and Rachel Andrews.  Ralph advanced to M14A at the Caddihoe and was 3rd with Michael May in 4th .  Robert Jones was 1st on M10B but moved up to M10A at the National Event in Wales and came 3rd.  And it was an excellent team performance at the Yvette Baker trophy regional round – well done to all of you.  Our dominance on the light green course (Ralph Street1st, James McMillan 2nd and Michael May 4th) was of particular note and good to see Alex Robinson (now the cricket season has finished) and Chris Wroe (a new member) contributing points.  More details in the Captains report.
TRAINING DIARY
Richmond Park is closed for culling 4 Feb-4 March, hence the number of street events.  Any offers to hold a street event? - contact Chris Robinson.
Training runs are 7.15 for 7.30 from the Thames Hare and Hounds Clubhouse, unless otherwise stated. 
21 January Run
28 January Hill session
4 February Street Event - details to be announced
11 February Headlight run (prior to British Night Champs)
18 February Street Event - details to be announced
25 February Marc Bolen Memorial Run to Sheen Common
4 March Pancake Day Street Event at Jackie Chapman's house, 25 Wilmer Close, Kingston - starts 7.00-8.00pm - one hour score event
11 March Run
18 March Hill session
25 March Run
SLOW members' news, October 2002–January 2003
From Ginny Catmur, Membership Secretary
Welcome to the following new members
Tarjei Sandnes (M21),  ; e-mail
Tony Jones (M35),  ; e-mail:
Janie Petersen (W40 ; e-mail:
Ruth King (W21),  ; e-mail:
Please note the following changes of address:
John Dowty:  
Jim Mallinson:  , Burnham-on-Sea, Somerset   
Alistair Irvine,  Kingston-upon-Thames, Surrey  . Work phone, email and mobile remain as before. (Now very handily situated for the Albert Arms, so SLOW may see more of me! - Alistair)
Jon O'Donnell's home telephone no. is no longer in use – please use his mobile , instead; e-mail address is and postal address is unchanged.
Marie Bukvova has now taken her husband's name, Thirouard, and has moved to:  West Wimbledon ; e-mail
Changes of e-mail address:
Timo Teinila writes 'we are now firmly settled to Finland.  If anyone is travelling this way, we can be contacted on .'
From Ann-Marie Kjos
Dear all SLOWies,
I see that you are having a street-O in Richmond today. I miss you all and I with I was there.
Looking out of my office window it has just started to snow. We got some during the weekend, but it has already melted away. I do not expect it to last, but I am looking forward to the skiing season which I hope will start late November.
After my illness last year my stamina has been very bad, I did some orienteering this summer and last month I joined a gym. I have made a 3 times a week training programme and hope to improve firstly for the skiing season and thereafter for my orienteering trip to China in April next year (5 days in the Yunnan province).
Hope to see you for the Box Hill race next year and maybe earlier.
Love from Ann-Marie
Hi Everyone

Just to let you know that Anna Jo Cory-Wight was born by caesarean section
at National Women's Hospital Saturday, 30th November 2002 at 7.41pm
weighing in at 5 pounds. We're all delighted and Anna of course is
gorgeous! Anna and Mum are fit and well and doing fine. Dad is over the
moon!
Love

Mary, Guy & Anna
Auckland
 
Email
<![if !supportLineBreakNewLine]>
<![endif]>
More news from Down Under......
<![if !vml]>

<![endif]><![if !vml]>

<![endif]>
Several SLOWies ventured to the World Masters in Australia, October 2002. Above is a snippet of the Final Day's map.
Junior coaching day is Sunday 26th January. This will probably be on
Hankley, south of Guildford (land permission to be confirmed). As I have a
work crisis looming, can you let Chris Fry know
whether you can come by Saturday 18th January to give him time to arrange
any extra coaches needed. Directions to follow nearer the time.
.
utututututututututututututututututututututututututututu
HOT PICKS
See you at - SLOW's top five winter hot picks  
   your guide to the best fixtures coming up
At each of these fixtures, SLOW will organise:
<![if !supportLists]>· <![endif]>transport from south west London
<![if !supportLists]>· <![endif]>suggested block of start times so we can all meet up (11.00-12.00)
<![if !supportLists]>· <![endif]>club tent for changing, free coaching - or whatever!
<![if !supportLists]>· <![endif]>apres-O pub or café
There will be courses suitable for both novice and experienced orienteers at all these events.
19 Jan  South-East Score Champs  Long Valley, nr Aldershot
Long Valley is always excellent and SLOW are defending champions.
60 or 40 mins score course
enter on the day
apres-O: The Windmill, Church Lane, Ewshot  grid ref: SU816501
9 Feb  National Event  Box Hill & Headley Heath, nr Dorking
The nearest ever National to SLOW's home ground with car parking at Friends Provident (home of our Box Hill Fell Race) make this a 'must-do' event.
age group courses + entry on day for yellow, orange & light green
enter by 18 Jan
apres-O: Friends Provident Sports and Social Club bar
16 Feb  BOF Ranking & SE League event  Burnham Beeches, nr Slough
Burnham and Egypt offer enjoyable fast running making this a cut above other age group events.
*age group courses + entry on day for white, yellow, orange, red, light green, green & string
enter by 26 Jan*
apres-O: Red Lion, Stoke Green  grid ref: SU985823
2 Mar  SLOW Trail Challenge + Colour Coded Courses  Holmwood Common, nr Dorking
Our own spring event on an area not used for over a decade.
10k & 6k mass start races + white, yellow, orange, light green, green, blue & string
enter on the day
apres-O: The Plough, Blackbrook  grid ref: TQ181467
16 Mar  CompassSport Cup Regional Final  Redlands, nr Dorking
THE BIG ONE - with three line whips all round. Be there! Our ticket to the final is at stake.
*age classes A-G (equivalent to brown, blue, green, light green, orange)
+ entry on day for red, yellow & white & string
enter by 28 Feb*
apres-O: The Plough, Coldharbour  grid ref: TQ152441
*At the age group events, if you do not enter in advance, you should be able to enter on the day, though you will pay more and have less choice which course you can run.
See fixtures list for full event details.
utututututututututututututututututututututu
FUTURE TEAM EVENTS    from Captain Pete
-------------------------------------
Here's the choice so far for next year - tell me if you find any more team events. Remember that EVERYONE is welcome to all these events. I will arrange teams to suit people's ability. The most important event is the Compass Sport Cup - everyone put it in your diaries now!
19th January - South-East Score Champs at Long Valley, Aldershot
We are the current holders when the event was held at Wimbledon Common last August. It will be harder to win this time. This is a good area, described as typical Surrey heathland with pine forest. It is entry on the day with start times from 10 to 12. The format is a 60 minute score event (with a 40 minutes choice for ages <16 or >60). I suggest we go for late starts - I hope many of you come along.
16th March - Compass Sport Cup Regional Round at Redlands, Dorking
This is the premier team event for clubs. People from all age groups count, ranging from juniors on the Orange course through to M21s on the Brown course. This is the knockout round for the south-east and so we must win in order to get to the final at Brandon, Norfolk on 1st June. Last year we were beaten by the smallest margin by Southdowns. This year I want us to have the best team possible at the event. Even though only 21 people score points for the club (including six juniors this year!), it is important for everyone to try to come to this event. Very often someone unexpected scores points and having many people running there takes pressure off the likely scorers. This should also be a good spring social occasion for the club so please do come along whatever your standard. Entry details will be available next year.
21st April - JK Relays at Bloom & Horton Wood, High Wycombe
Over this Easter weekend, there are also the JK Individual races at Hambledon (Henley) & Star Posts (Bracknell).
11th May - South-East Relays at Shorne Country Park, Gravesend
More recently SLOW teams have been going to this event. We won the handicap trophy last year and had many teams of different standards. Again, this should be a good social occasion.
18th May - British Relay Champs at Greno Woods, Sheffield
The individual champs are at Wharncliffe the day before.
14th June - Harvester Night&Day Relay at Longshaw, Sheffield
A lot closer than last year and there may be a JOK Chasing Sprint earlier in the day. After the keenness for night orienteering at the training weekend, I wonder if we can get a few teams to this unique event. We can practice night-O in the lead-up if necessary.
7th September - Junior Team Relay in the West Midlands
Calling all juniors - didn't we have fun at the Yvette Baker Trophy final this month. This Juniors-only relay is for teams for 8 with courses ranging from yellow to green. 2 or 3 of the legs are at night. If you are potentially interested or have any questions then please let me know - this will be a great experience if we can get 8+ juniors interested. We will oraganise special training if necessary.
Of course, there will be the North Downs Way Relay in June. And possibly another assault on the Bob Graham Round in the Lake District in June/July - anyone interested? Watch out for the special orienteering events, namely our Hot Picks (where it would be fun to run on the same course as each other - M21L for the men?) and any club coaching. Also the Scottish 6 Day Event from July 27th to August 2nd looks very good. And there is the World Champs week (with spectator races) near Zurich in Switzerland - there is an option to go just from Thursday 7th August to the weekend - Stephan Rudolf may be able to help with arrangements. I had a great time street-orienteering in Venice last month - there will be another opportunity next year. Or what about a warm-weather weekend in the spring, using a budget airline.....? It's your choice!
YVETTE BAKER FINAL                                     From SLOW Team Captain, Peter Huzan

What a great day! I think we'd win any prize for cheering in the finish area. Like Andy Kelly said at the prizegiving, it was a success to get to the national final of the best junior orienteering competition in England.
You should be proud holders of your Yvette Baker certificates!

The overall results were: Nottingham (879), Walton Chasers (869), Octavian Droobers [Coventry] (868), Sarum (851), Airienteers [Yorkshire] (842), Southdowns (818), South Ribble [NW England] (816), Southampton (816), Stragglers [Essex] (811), City of Birmingham (810), Cleveland (801), SLOW (780). So we were effectively 12th out of over 50 clubs around the country.

Two interesting points are that Nottingham have won every year, and we were only 38 points down on 6th place. I shall show below how close 38 points is!

Here are some nice words (I hope!) about all of our junior team, with their points. First place for Yellow Girls gets 100 points etc.

Yellow - this was quite a difficult course, especially control 9. Most juniors found it hard in places. Anna Steinitz (87) - Anna has some speed. She was 5th at the 1st control, came 3rd on the hard control 9, & was 6th on the run-in. If it wasn't for a parallel mistake at control 3, she could have been head girl.
Andrew Williams (81) - Andrew had a consistent run. If it wasn't for a little hiccup at control 3, he could have been in the top 5. I hope he can come along to some junior coaching days next year.
Robert Jones (66) - Robert was an excellent 7th after 8 controls, till that hard control 9. Apart from that, very steady.

Orange
Helen Walter (91) - Helen had a consistent run to end up in a good place.
Matthew Walter (87) - And so did Matthew, but a bit faster!
Charles McMillan (71) - Charles had a steady run, and also helped an injured competitor - what a gentleman!
Chris Wroe (57) - Chris managed to put his recent club coaching to good effect as he scorched round the course to be 2nd with one control to go. Unfortunately he didn't notice the last control under his folded map. He still went back to finish the course for the team. This was so close to being the run of the day. Next time...!

Light Green
Ali McKerrow (91) - A very consistent run with a good result. Was as fast as James on the run-in!
James McMillan (90) - James said the course looked a little short so raced off the start and was in 1st place at the 1st control! If it wasn't for a small mistake at control 6, he could have come 3rd.

Green
Ed Catmur (94) - Ed had our best score of the day. He drove down all the way from the Lake District to run for SLOW. Best wishes for M21E next year.
Simon Turner (88) - Simon showed he can still orienteer very well. One of the most consistent runs of the day, and sets him up for an illustrious career on M21 short next year!

As you can see we had some really good points scorers (especially Ed, Ali, Helen) and a few if onlys! For example, we could have got an extra 28 points if Chris had continued his great run.

Thank you to all the parents, Heather & Chris for bringing you and contributing to the atmosphere on the day.

So let's look forward to next year. The main interclub competition is the CompassSport Cup, which is for all ages. The first round is on March 16th near Dorking. The rules have changed for next year so now SIX juniors score in the competition (and 15 adults). This should be a good day out for all of our adults and juniors. After this, we have the various relays. First
up is the JK Relays on Easter Monday. We will be able to organise things so that you're in a team with people of the same standard, and hence under no pressure. Several SLOW juniors had their first relay runs last year and enjoyed them a lot.

Also look out for the junior coaching days organised by Heather. These are such a good way to improve your skills, and are good fun too!

Best wishes
Pete Huzan (SLOW Team Captain)
 TIME FOR A FIX                                                                from Andy Robinson
(This is the fixtures and mapping report for last November's AGM with some updates for the year ahead)
Many of you will know Andy Kelly, the English Development Officer. He tells the story that soon after taking up the post he went to a National Fixtures meeting and asked the people there what their development policy was. He was met with a complete blank uncomprehending silence. Their implied answer being "we're fixtures people; we shuffle lists about. Development?? - that must be someone else's job".
The message in this story (and I rather hope you're ahead of me here) is:
Orienteering fixtures are the showcase of our sport and as such are the most important means of development. They need to be co-ordinated in a way that both attracts newcomers and keeps current members interested and motivated.
Now I'd be one of the first to admit that over the years SLOW's development efforts with respect to newcomers has been pretty mediocre. But development applies across the board and at the elite/racing end SLOW's record is up there with the best. An obvious example is the UK Cup Sprint Race in Battersea Park when most of the country's elite orienteers came to London, enjoyed the racing and made a highly amusing number of mistakes.
The other major development was the invention of the "Trail Challenge" race format and the other evening events staged with MV and CROC. Our own strategy review coupled with BOF's NOW week got us thinking "outside the box" and trying to make the orienteering fixtures list look exciting again.
Now I'm someone who's been bored silly for years by the diet of wall-to-wall "Badge Events" and "colour-coded events" and I doubt if I'm the only one. But it still took a mental jump to connect that with the decline in the sport's numbers and twig that much of the missing generation had a similiar view. The first step has been to ban the two terms above and replace them with "age-group/trophy/league" events and "club/training/ novices/introductory" events respectively and/or name each event as part of a specific series e.g. SENiLe race no. 3. (The AGM then suggested the term 'Open Race' which we are using for Holmwood in March)
The other step is to stage exciting, meaningful fixtures. This is not as hard as it might sound as it's really a development of what we've been doing anyway. So I hope you will agree with me that the events listed below, especially for the year ahead, fit in with this vision.
Now all of this is a big bag of wind with a Committee that's been blowing hot air at each other if it does not get the support of the majority of the club. And that means active support by getting involved in the fixtures we are staging. By now I suspect some of you may be ahead of me again. Yes, it's the regular call for people to be the major officials at the club's fixtures for the coming year.
Finding planners is always the easier bit as planning's the nice job because it gets you out in the forest. In some cases it's a question of "book early to avoid disappointment"; I had three people inquiring about planning the Hankley OK Nuts but Chris Fry was the first. Organisers are harder to come by, despite the fact that it's a much easier job than it used to be now that SportIdent takes care of so much. Mind you a few volunteers to get trained up on SportIdent wouldn't come amiss and would give Gavin some relief. For either job previous experience is no barrier. There's masses of help and support available for anyone new to either role. And the varied nature of the fixtures means that most of them are quite small (less than 100 runners) and therefore not onerous.
Now it's time to role the credits for those who have taken on jobs in the last year:
9 December 2001. Winterfold. OK Nuts Trophy Event. Organiser: Nigel Saker Planner: Paul Canham. SportIdent: Gavin Andrews. Controller: Philip Robinson. Entries: Andrew Trimble
12 January 2002. Esher Common. SENiLe. Organiser: Andy Robinson.  Planner: Alan Leakey.  SportIdent: Gavin Andrews. Controller: Mike Elliot (MV)
19 January.  Box Hill Fell Race. Organiser: Andy Robinson. Entries: Dick Clark.
2 March. Battersea Park. UK Cup and Southern Express Sprint Race. Organiser: Ginny Catmur.  Planner: Alan Leakey  Controller: Simon Errington (HH). Follow-up events for beginners were staged on the next 3 Saturdays.
25 May Pitch Hill Southern Express. Organiser: Diane Leakey Planner: Karen Jones Controller: Tim Denton (GO)
26 May Surrey Hills Races Organiser: Jeremy Denny
12 June Wimbledon Trail Challenge. Organiser: Andy Robinson.  Planner: Alan Leakey
14 July. Frolic. Putney Heath. Organiser:. Kay & Jeremy Denny.   Planner: Kate Thomas SportIdent: Gavin Andrews. Controller: David May
26 August. South-east Score Championships Wimbledon Common.   Organiser: Chris Robinson.  Planner &  SportIdent: Gavin Andrews. Controller: Philip Robinson
In addition there were summer evening events arranged in conjunction with Mole Valley and Croydon. Mike Garvin, Peter Huzan and Alan Leakey (twice if not thrice!) providing SLOW's contribution. And if Gavin's name is missing from any of the above as SportIdent supremo, that's an omission on my part as he was there doing the business at every single one of them.
PLANS FOR 2002/03
Date

Venue

Event

Courses

Organiser

Planner

15-12-02

Hankley Common

OK Nuts Trophy

13 age group             5 colour

Charlie Turner

Chris Fry

8-02-03

Wimbledon Common.

SENiLe

3 night colour

Andy Robinson

Chris Owen

01-03-03

Box Hill

Fell race

a real goody!!

Andy Robinson

N/A

02-03-03

Holmwood Common

Open races

6 colour

2 Trail Challenge

Andrew Trimble

John Dowty

12-04-03

The Nower

Southern Express

3 short age group

Diane Leakey

Mike Murray

31-05-03

The Nower

Surrey Hill Races link

3 colour

VACANT

VACANT

a Weds in June

Wimbledon Common.

Wimbledon Trail Challenge

2 Trail Challenge

Andy Robinson

VACANT

20-07-03

Ham Riverside

Frolic

3 (maybe 5) colour

VACANT

VACANT

5-10-03

(or 12th)

Richmond Park

Open maybe with YBT heat

6 colour

VACANT

VACANT

13-12-03

Hankley Common

Southern Night Champs

5 age group

VACANT

VACANT

14-12-03

Hankley Common

Open

4 colour

3 mass start loop

VACANT

VACANT
Vacancies in the early part of the year were filled at the AGM, but from May onwards volunteers are needed. This means you. Please form an orderly queue.
and then of course there is the World Cup in May 2005. Now there's an example of an event being staged for development purposes.
MAPPING  REPORT                                                                       Andy Robinson
Mapping has also been subjected to the strategic review that took place early in the year. The conclusion was that volunteer time is best used on other things and we should use professional mappers where possible. This is a continuation (and reinforcement) of what has been the club policy for some years. The downside of this is that some of us (myself included) actually like mapping not least because we know it improves our competitive skills, by knowing what should and what shouldn't be on the map.
Fortunately for us the other development in the year comes to our rescue. That is the increasing use of laser printed maps which is a direct result of the improved quality of and experience in producing maps that way. With laser printing a minor re-survey is done for each event with the touching up etc done by the planner or the club's amateur mappers.
An example of this was the club's major mapping activity in the year, which was by Alan Leakey in Battersea Park. Alan took the 18 month old version by Vyacheslav Smirnov and gave it a major re-working for the UK Cup Sprint race. The laser printing was done by Kallkwik of Leamington Spa - an OD orienteer.
The club has upgraded to OCAD8 in the year. Chris Fry arranged this as part of his planning work for next month's OK Nuts. This latest version of OCAD can manage the planning aspects for which we had previously been using Picover. We intend to use OCAD8 to assist all planners from now on.
The new Hankley Common is about to be released. The work was done professionally in the early autumn. The same professional has been booked for Holmwood Common. However it is intended that the Ham Riverside map will be done by us amateurs - well, I do work in the middle of the area. (any volunteers for doing survey work in the spring will be gratefully received).
Two Reports on the ACTION PACKED TRAINING WEEKEND Friday 29 November to Sunday 1 December 2002
From Charlie Whetham
The feelings of guilt subsided as we neared the Forest of Dean – sitting (dare I say occasionally sleeping) in the front, whilst three others were forced to squash up in the back for the three hour drive from South London to the Dean Field Studies Centre in Parkend, in the centre of the forest of Dean. The travel had been coordinated fantastically, as seems to be usual, by Ginny (one of those in the back!) between a number of different cars. But once we arrived, mid-evening on Friday, people seemed to fit roughly into one of two groups:
Dave Finch, Peter Huzan, Juliana Grant, Ginny and Richard Catmur, Chris Fry and Heather Walton – those with what I imagine cannot be less than 6 or 7 years orienteering experience each. Then Vicky McDonald, Ran and Erica Blatchford, Chris Wroe, Mark Vyvyan-Robinson, Marie Thirouard and me – a cumulative total of 6 or 7 years experience for the whole of that group would seem to be a reasonable estimate!
<![if !vml]>

<![endif]><![if !vml]>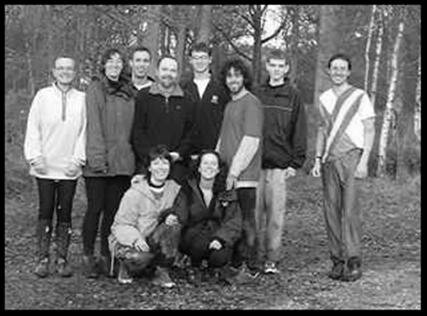 <![endif]>
After a brief meet-up in the pub, Chris, who, with Heather, led the training exercises, gave us an introduction to the various exercises we could expect over the next two days. Daunting though these sounded, at least the terrain sounded perfect for some good running. The Forest of Dean is one of England's few remaining ancient forests (although it's just about in Wales), with runnable deciduous forest and trails with good views and is apparently well known in orienteering circles for platforms (from past charcoal burning) scattered across steep slopes and intricate mineworkings.
After a good night's sleep (with those in the prime of life seeming to be the ones to bed first), and a hefty breakfast courtesy of Ran and Erica who had volunteered to procure the food and who carried out the task magnificently, getting just what was wanted – large amounts of good uncomplicated food – we started the Saturday morning training in a semi-wooded area with  muddy paths, and minor inclines (is that a good enough sounding orienteering description!):
Control Pick exercise: this exercise involved a loop consisting of short legs, each representing the attack point to the next control. Being new to orienteering (a background in athletics) practice in the choosing of attack points has certainly been required! – so this was a very useful exercise.
Bearings exercise: conceivably a more limited exercise if things are going well – it just involved taking bearings between markers on two parallel paths. Luckily (for the sake of interest), but frustratingly, I didn't seem to be able to carry even this out correctly. Reluctant to 'blame my tool', I always seemed to be to the right of the correct bearing. At least having covered the distance I will know to look left for the control!
Attack Points exercise: longer legs but with very distinctive attack points.
<![if !vml]>

<![endif]><![if !vml]>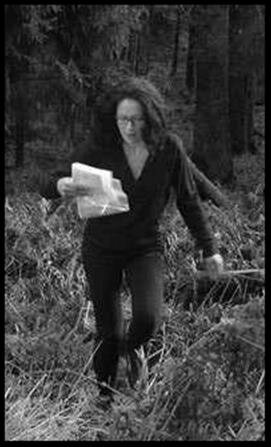 <![endif]>
Saturday afternoon provided the opportunity for some more joined-up training in a more forested area:
Corridor exercise: this is really excellent training. I ran this one shadowed by Peter. My bearings seemed to work well (incorporating the automatic bearing-off discovered yesterday when necessary!). After a good start (from which Peter later confessed he thought himself redundant) a few mistakes crept in, which, in that that reflects the reality of my O-events, pleased me – Peter's presence was really useful in showing me which (seemingly obscure) markers I should use to keep on track. Apparently my gait over the terrain is good; I would never even have thought about that…
Map Memory exercise: another really, really good one. I ran this with Mark, who seems to be in a similar situation to me: fast runner with a little finessing required on the quick-map-to-ground-application. The exercise involved one of us leading on each leg without reference to a map, whilst the other followed behind, memorising the route for the next leg. We adopted the additional rule that you could look at the map once more if in difficulty (eg we found it particularly awkward to plan contingencies if the leg did not go exactly as expected), but only if we returned to the previous control. I find myself looking at the map far too much when orienteering so this was really good in encouraging the confidence and educated-risk taking that comes with experience. Mark seemed to be on the way there with those aspects already!
Aiming-Off exercise: I didn't have time to do this one…. but seem to have an in-built ability to do this (for better or worse).
Saturday evening (you didn't think we'd finished training did you?) meant some night-O. My first experience of this (though by the time we got to it, I knew most of the control sites pretty well from the previous exercises). Good fun, but without the chance to stretch your legs to the extent you can in daylight-O I didn't find it quite as good as the real thing.
Then some preparation for Sunday's exercise – draw your own map – putting on those features you think necessary. Followed by a trip to a local pub for dinner – really nice, but I was absolutely knackered – can I claim mitigation in having to collect the furthest controls during the day whenever controls were to be collected in….
Sunday morning commenced with the usual banter from Peter – I hope there'll be an interesting O-event soon involving both the impudent newcomers with their running backgrounds and the club's (elder!) statesman so we can see where we stand! Then the training continued:
Draw-your-own-maps exercise: lots to be learned from this including contingency-planning (again!), and (for me) the extent to which contours are useful, but also, are sometimes difficult to use when both you and they are in the middle of a forest.
Control Picks exercise: another one – the orienteering was really starting to feel natural!
Final Relay: this involved teams of three, but with only two maps per team and a limit of one control collection per foray from the start area. The teams were designed for equality – which was achieved in my team by putting Mark and me with Heather who is only able to walk at the moment (but whose accuracy at controls is obviously top-notch). This of course meant the long-legs for me and Mark (I don't think I've ever covered quite such a distance in one weekend as this one) but we won!
Then (having collected in the controls!) we ate – and never did cheese, ham and tomato sandwiches taste so good! Finally the long (relative of course, as regards good orienteering areas) journey home (soon back into the traffic jams of SE London).
What an excellent weekend. Many thanks particularly to Chris for his planning of the exercises; to Heather for her planning of the weekend; to Ginny for her coordination of the transport; and to Peter for this ad-hoc coaching – I learnt so much and got entirely back into an orienteering frame of mind, which after the summer break I'd found had slipped a bit. I felt much improvement particularly in running on a bearing, pacing, attack point selection, route selection and, confidence on running a route. Is that all?!
From Erica & Ran Geffen
The 29th November, first day of Hanukah, and the first SLOW training weekend.  Well the first in recent history anyway.  12 foolhardy SLOWies braved the cold and fog and headed west to the Forest of Dean, with a few more showing up on Saturday.  The Dean Field Studies Centre in Parkend offered surprisingly generous accommodation - small dorms and doubles, with kitchen, drying room and ping pong table also at our disposal. 
The weekend was masterminded by Heather Walton, who with the expertise of Chris Fry offered an array of imaginative, challenging and dare I say it fun activities. Both were on hand throughout for debriefings, advice and handy technical tips.   
Saturday started in Soudley and Blakeney Hill Woods with a choice of 3 activities of varying difficulty.  A simple compass bearing exercise to test our accuracy using the compass with a choice of simple routes between 6 controls spaced 100m apart. Second a control pick exercise to put our compass skills to the test and third an exercise highlighting the importance of identifying and using suitable attack points.
Saturday afternoon offered up a further 3 activities, becoming progressively more complex.  Firstly practicing aiming off, a particularly useful technique when navigating towards a linear feature.  Also using a Corridor, i.e. when only the narrow section of the map directly between controls is provided.  The map memory task required pairs working together doing alternate legs from memory whilst their partner carried the map
Finally, for those still wanting more Peter Huzan organised an impromptu night exercise.  At 5p.m. with the light fading fast we headed back into the forest geared up with industrial strength head torches courtesy of the Catmurs.    
And then on Sunday we did it all over again, but not before hot showers, a meal in the local pub and homework.  Homework consisted of drawing our own maps around Sunday's route.  A daunting but excellent activity to focus the mind on only the essential features needed to navigate between controls.  Putting our home made maps to the test was interesting but no one veered too far in the wrong direction.
Following one further control pick exercise the weekend climaxed in the star relay.   3 teams of 3, 2 maps per team and endless strategic possibilities.  In the end Charlie, Heather and Mark triumphed. 
A great weekend, great atmosphere and a great range of activities – can't wait to put our new skills into practice!!!  All agreed it was a raving success.  When's the next one?
NOVICES AT THE KIMM: 26/27 October 2003
With a combined age of 88, Mervyn and I thought it was time to try a Karrimor.  A score course would be a suitable mental challenge, together with the 5 and 4 hours of physical effort over the weekend.  Picking up a map with dispersed controls and agreeing a good course in a few minutes, well that tests the teamwork!
In a bit of pre-empting that Andy R would have been proud of, we did the Phoenix event in the Cheviots in August.  The KIMM was there too.  What we hadn't allowed for though, was the large spread of controls.  In this terrain, it looked like we'd get less than half of them.  Did we pick up the long course map by mistake?  Nope.
Our route was due west to the zone beyond the overnight camp, picking up controls along the way, but hoping for that 50 pointer too.  Pace in the terrain may not have been as fast as the planners hoped, due to lack of sheep grazing, so we missed the 50 and took a much shorter closing route to the finish.  The shape of our overall route was like a hook, rather than a big zig-zag that we'd envisaged on a one way score course.
Boil the water?  Well, our stove could have done it, but we didn't feel like spending the rest of the day over a billy.  The overnight camp was near a small river and this was your water.  That and what came down during the night.  We pitched our tent amongst the others in a grassy field.  Changed into dry clothes then I checked the map for alternative routes (of course there was a better one) while Mervyn recuperated without snoring too loudly.
An early bed proved fruitful as the night unleashed a storm.  It tested our tent, which was more of a summer camping variety.  Firstly, we had to get up and put all 6 of our pegs (weight saving) on the windward side when the outer flapped up.  Not long later a sharp sound awoke us, as if something had fallen on the tent.  But no, the lopsided shape meant something was wrong – a snapped fibreglass pole!  Boy scout splice, with that curved pole just a bit shorter now.  Well, no use worrying, we still had more string in case the other pole broke. But the storm passed and we survived.
We'd cunningly avoided the early chasing start, but even with the extra hour in bed, we had to scamper to the day 2 start.  Route planning was a bit easier, as we knew it was a choice of either north or south then head east towards the finish.  We chose south, which meant a long straight run up a valley, mostly on a track, followed by a bit of up and down, then bolt home 10 km along another valley.  This option also had the tantalizing prospect of two controls up the side of the last valley.
However, lashing wind and rain over the tops.  Mist making navigation difficult.  Freezing hands not able to tie loose shoelaces.  Perversely, I enjoyed it, as I'd heard so much about the KIMM that I was happy to experience one in bad weather.  And that method of looping your laces twice through the top holes kept my shoe on for two hours when undone.
Looking back, we had good runs. We stuck together, had route choice options, orienteered well and didn't incur late penalties. And next year? Well,I hear that the Italians do mountain running and my wife has already moved to Milan. So do they have a KIMM?                                                  Mal Lyon & Mervyn Rodrigues.
EVENT INFORMATION
You are strongly urged to confirm these events using the following answerphone services. The SEOA website has links to SE clubs and other regions.
 SEOA (020-8948-6056): http://homepage.ntlworld.com/simon.errington/seoa/seoa.htm
(SCOA (0118-946-4354)           (Army (01256-883265)               (SO (01903-239186)
(SAX (01303-813344)                (MV (01372-279295)
NB: 26-Jan-03 Southdowns Colour Coded at East Friston, Eastbourne  is cancelled                 DATE       CLUB          TYPE       PLACE                          GR             Org./Contact
01-Feb-03SO  SE        "Tortington Com, Arundel"        TQ 005067 02392- 240529
02-Feb-03 TVOC       SC       Chiltern Challenge         Stokenchurch
08-Feb-03SLOW        SE        SENiLe            Wimbledon                       020-8255-7176
08-Feb-03HH  SE        Chipperfield      TL 046015                         01727- 842883
09-Feb-03MV SE        Nat      Headley / Box Hill  TQ 171506      01372 813047
15-Feb-03SAX           SE        Thorndon & West Blean                             01622 730628
15-Feb-03SO  SE        "Marlpost Woods, Southwater"              01293 412366
16-Feb-03HH  SE        Badge  Burnham Beeches & Egypt        01727 842,883
22-Feb-03SN  SE        C5       Short/S Express            Blackdown       01932 340,062
22-Feb-03SO  SE        C5                   Angmering Park East       01903- 603336
23-Feb-03DFOK        SE        C4       CC       Shooters Hill     TQ 440760  020 8466 6370
23-Feb-03       BKOSC           C4       Concorde Chase
01-Mar-03HH SE        C5                   Verulanium       TL 137072    01727 842883
01-Mar-03      SOSE   C4N    SENiLe
02-Mar-03SLOW       SE        C4       Holmwood                                        020 8715 8063
08-Mar-03SN SE        C5       TryO/Jun League          Hindhead        01483 489,868
09-Mar-03SO SE        C3       Badge  Worth Lodge Forest                01273 472824
09-Mar-03TVOC        SC       C4                   Wycombe Abbey
15-Mar-03DFOK        SE        C5                   Greewich Park TQ 390770    02987760831
16-Mar-03GO             SE        O3       CSC 1st round Redlands
22-Mar-03SN SE                    O Cross/S Exp Whitmoor
22-Mar-03SO SE        C5                   "Stanmer Park, Brighton"        01273 820,032
23-Mar-03HH SE        C4       CC       Hatfield Park
23-Mar-03SAX           SE        C4       CC       Brede High Wood             01622 686779
29-Mar-03SN SE        S5        Jun League score          Wisley      01483 489868
30-Mar-03CHIG         SE        C4       CC       Hainault Forest
05-Apr-03HH  SE        C5                   Rothampstead  TL 121137
BOKSW                      Br Sprint Champs
NB: 26-Jan-03 Southdowns Colour Coded at East Friston, Eastbourne  is cancelled